Dodging spanners and hospitals, we've managed to navigate the last stages of our Census project to deliver the Australian Open Source Industry & Community Report 2008!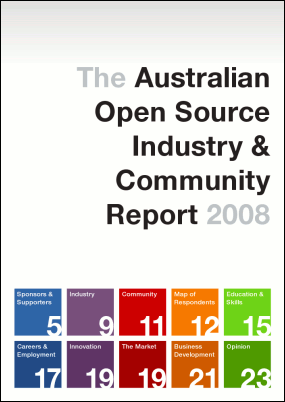 It has been incredibly satisfying to ship the report, as this project has been with us in various forms for over a year now. The initial concept came together in July 2006, as I was leaving Canonical to join Waugh Partners, and we announced the project in November 2006 at our (thoroughly over-catered) launch party.
We knew that one of the most significant barriers to Open Source adoption in Australia was the perceived lack of support, but that was always counter to our anecdotal understanding of the industry and community here. We needed numbers.
Many thanks to our sponsors, NICTA, IBM and Fujitsu and supporters OSIA, Linux Australia and the NSW Department of State and Regional Development. Without their help, this may have just been yet another small-target, DIY project — no professional face, no industry credibility, and no impact on the wider business community. Instead, we have a serious resource that our industry and community can use to change the game.
… and that's what Waugh Partners is focused on in 2008: Changing (and sustaining!) the game for Open Source in Australia. This report is just one of the steps we're taking towards this goal.